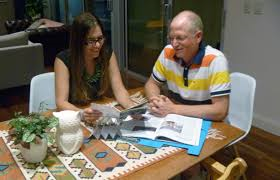 Conducting a home energy consultation with Tim
Do you want to improve the comfort and energy performance of your home… but you're not sure what to do next?

Do you want to be more comfortable in your home on the
hottest summer nights and on the coldest winter mornings?
Would you like to reduce or eliminate your energy bills?
But where to start? What should be top priority? What will give you the most "bang" for your "buck"?
That's where I come in!
I am an engineer and I've been in over 1,000 Melbourne homes advising on what can be done to improve home comfort and energy use, in what order, and with what priority.
I've done the research for you! I can get you to where you want to go, faster.
Please call me at 0419 019 864 to discuss your needs. I look forward to hearing from you. Tim Forcey
——
"Tim provided a very thorough and independent assessment of our home's strengths and weaknesses. He has a wealth of experience and many practical suggestions for improvements. I strongly recommend having Tim assess your home too. This is something we should have done years ago." – Andrew, Brunswick